By JerisBookAttic / 2019-03-21
Title : Till Death Us Do Part Author : Cristina Slough Series : N/A Release date : December 29th 2015 Rating : 3 Stars Blurb : The fateful day Mimi Marcus has dreaded begins with a phone call... The wife of a U.S. Marine, Mimi spent countless nights worried that her husband Joel would fall in the line of duty. He had fought valiantly and served his country with honor. That's exactly what they tell her when they deliver the news—Joel was taken by the enemy in Afghanistan. Her husband is dead. In
Read More
{"slides_column":1,"slides_scroll":1,"dots":"true","arrows":"true","autoplay":"true","autoplay_interval":2000,"speed":300}
Titles: Nero ~ Vincent ~ Chloe ~ Lucca ~ Angel ~
Drago
Release Date:

Available Now
Elle is the school's punching bag, living a life of fear.
The only good girls Nero knows jump in his bed when he tells them to.
The closest Elle has come to a bad boy like him is in the cafeteria line.
The mob boss gave him orders to find out what she knows.
I just want to be a fucking made man.
I'm just a fucking waitress.
`•.,¸¸,.•´¯ ✰✯✮✻✯✻✱✿✷✦✳*✪★☆✿✳✹✴✲✴✶✩✬✮✶☆✳✴✮*✷✪✬ ¯`•.,¸¸,.•
Lake lives on the opposite side of the tracks, born the daughter of a soldier.
The light and dark side of him are at constant war, but he is letting his darkness reign.
She is trying to find peace, and she will soon be far enough away to find it.
Discovering that his boss owns her, showed him how little he knew her.
Knowing all about him only makes her want to hate him.
I'm just fucking trailer trash.
`•.,¸¸,.•´¯ ✰✯✮✻✯✻✱✿✷✦✳*✪★☆✿✳✹✴✲✴✶✩✬✮✶☆✳✴✮*✷✪✬ ¯`•.,¸¸,.•
Her reflection is a constant reminder of how she got them.
The man who scarred her haunts not only her dreams, but also her reality.
Some nightmares don't go away in the daylight.
Two men stand up to save her from the nightmares.
Both are men of the mafia, waiting behind a door she doesn't want to open.
Amo the soldier and Lucca the underboss.
The Beast and the Boogieman.
`•.,¸¸,.•´¯ ✰✯✮✻✯✻✱✿✷✦✳*✪★☆✿✳✹✴✲✴✶✩✬✮✶☆✳✴✮*✷✪✬ ¯`•.,¸¸,.•
Chloe was scarred by her past, learning too young that nightmares are real.
He has waited long enough to claim her soul, but he must take it from the devil first.
Her soul might have been better off claimed by the devil.
The only way to save her from her past is to delve into his.
The world as she knows it will come crashing down.
I'm the fucking boogieman.
I'm just a fucking freak.
`•.,¸¸,.•´¯ ✰✯✮✻✯✻✱✿✷✦✳*✪★☆✿✳✹✴✲✴✶✩✬✮✶☆✳✴✮*✷✪✬ ¯`•.,¸¸,.•
Adalyn is fascinated by bad boys, bleeding Caruso blood.
Seized by his enemies, he's only a moment away from death.
Toying with the enemy, she's about to get caught in her own trap.
One kiss could betray his family and seal his fate.
That kiss could cost her life.
I just want to be a fucking mob wife.
`•.,¸¸,.•´¯ ✰✯✮✻✯✻✱✿✷✦✳*✪★☆✿✳✹✴✲✴✶✩✬✮✶☆✳✴✮*✷✪✬ ¯`•.,¸¸,.•
Katarina is a Luciano, protected only by her brothers.
Gunned down by her Family, he is seeking vengeance.
Chosen by his, she's forced to unite their blood.
Marrying her might just be his sweet revenge.
Marrying him would be a marriage made in hell.
I'm just a fucking bodyguard.
I'm the fucking devil's daughter.
`•.,¸¸,.•´¯ ✰✯✮✻✯✻✱✿✷✦✳*✪★☆✿✳✹✴✲✴✶✩✬✮✶☆✳✴✮*✷✪✬ ¯`•.,¸¸,.•
Hey! My name is Sarah Brianne and after living for twenty-two years the characters in my head told me enough was enough and I have finally put pen to paper (or is it finger to keyboard?) to tell their stories. Since I was a little girl I have watched every chick flick I could get my hands on, then when I became older I discovered a whole new world of romance novels. To me there is nothing better then a tale of true love and those are the stories that have inspired me to write. Like everything else in my life
I have put my own spin on two lovers destined to be together.
Title: Quint Essential ( The Kingsbrier Quintuplets 1-3 )
Genre: Contemporary Romance
Welcome to the family…
This collection includes the first three complete novels in the Kingsbrier Quintuplets contemporary romance series — Eric, Brier, and Daveigh— as well as previews of the full first chapters of Miss Cavanaugh, Cavanaugh, and Adam.
Eric
Eric is the only quint who has life figured out. College. Work his way up the ladder in the family construction business. Marry Ginny, the girl with the heart of gold.
But for as much as Ginny's told Eric she loves him, she hasn't confided a secret that will throw a wrench in Eric's plans.
When Ginny admits the lengths she's gone to keep Eric, will her deceit tear them apart?
Brier
Brier's defiant streak kept that hurt at bay. She left Kingsbrier unwilling to let the man she loved stop her from pursuing her dreams. Now, despite a fulfilling career, Brier knows something is missing from her life. When circumstances bring her back home, Brier confronts the one person she's avoided for years.
Drew Newhouse has never backed down from a challenge. He's let his childhood sweetheart push him away because he knows they have always been meant to be. This time, he's playing for keeps.
With the help of the other quints, will Drew win Brier's trust? Can Brier put her heart on the line and give Drew the chance they both deserve?
Daveigh
Cris Sanchez prefers to admire Daveigh Cavanaugh from afar. He's a widower with a young son. She's the boss's daughter. The eight years that separate their age—and time that Daveigh has been away for college and vet school—should have sealed their fate.
Instead, Cris's dedication to the family business and Daveigh's love of animals draws them close. Now the pair must contend with the impending loss of a confidant they've shared for close
to a decade.
Daveigh returns to Kingsbrier harboring a secret, but none that cuts as deep as the one Cris has held onto. After allowing herself time to heal, will Daveigh find strength in their friendship to return to her studies? Or will she settle for half her dreams for the chance to be with the man she's always loved? After admitting to his responsibility in his wife's death, can Cris relinquish the past that haunts him? Or will he and Daveigh continue down separate paths?
Novels in the Kingsbrier Quintuplets series are interconnected standalones, each with an HEA. Additional books are essential pieces of the overall story arcs as ongoing storylines develop throughout the series. Reading them in order is not necessary, but recommended by fans.
Jody's husband asked what she'd been doing all day. After five years she finally confessed, "When no one is around, I write."
Okay, It was more like trying to get out of saying a thing. Jody's a writer. You want it pretty. Let's compromise.
"Just finish one," he said, challenging her to complete a story and share it. Little did he know that those words of encouragement meant they'd return from a family vacation with a wild and defiant set of quintuplets stumbling their way into adulthood. Wasn't raising their three sons enough?
A native of nowhere, Jody settled in New England for 17 years before agreeing to uproot her brood of boys and move to North Carolina. She spends most of her time reading, writing, and hoping that her ravenous children haven't managed to eat all the ingredients before she cooks dinner.
RELEASE BLITZ
A Standalone Contemporary Romance Novel
NY Times, USA Today, and #1 Wall Street Journal Bestselling Author Penelope Ward
NOW LIVE!
Amazon ➜ https://amzn.to/2XnZUW3
Audio ➜ https://amzn.to/2BEz4ja
Amazon Print ➜ https://amzn.to/2SY4Zoj
Apple Books ➜ https://apple.co/2Tj776z
Nook ➜ https://bit.ly/2IiEqX7
Kobo ➜ https://bit.ly/2BAL4lC
Google Play ➜ http://bit.ly/2BCw3Qc
Goodreads ➜ http://bit.ly/2SL1z9e
Synopsis:
What do you do when a sexy, older man moves into your family's summer rental?
Well, apparently, you make a fool of yourself—over and over. Things didn't exactly get off on the right foot with Noah Cavallari. Our first encounter was embarrassing, to say the least.
But despite that, I found myself waking up every day with a newfound energy. Nothing exciting ever happened on the lake—not until Noah moved into the small boathouse on our property. He'd booked it for the entire summer…and I was still trying to figure out why.
When my mother became ill, I inherited the responsibility of making sure our guests were well taken care of. I should have been in college. Instead, I was living my best life…as a maid.
Dark, handsome, and mysterious, everything about Noah screamed forbidden.
I knew he was just passing through town for the summer.
I knew he was probably too old for me.
Yet, I was drawn to him.
Not to mention, he tried to save my life when he mistakenly thought I was drowning.
I wanted him and made no secret of it.
His own attempts to warn me away soon gave way to late-night moonlight chats by the lake. We were slowly easing into a friendship that was gearing up to explode into something I might not recover from.
Because he's leaving at the end of the summer.
And I have no idea what I'll do when August ends.

About the Author:
Penelope Ward is a New York Times, USA Today and #1 Wall Street Journal bestselling author of contemporary romance.
She grew up in Boston with five older brothers and spent most of her twenties as a television news anchor.
Penelope resides in Rhode Island with her husband, son, and beautiful daughter with autism.
With over one-point-five million books sold, she is a twenty-time New York Times bestseller and the author of over twenty novels.
Find Penelope here:
Website: http://www.penelopewardauthor.com
Gmail: penelopewardauthor@gmail.com
Facebook: https://www.facebook.com/penelopewardauthor
Facebook Fan Group (Penelope's Peeps): https://www.facebook.com/groups/PenelopesPeeps/
Twitter: https://twitter.com/PenelopeAuthor
Instagram: @penelopewardauthor http://instagram.com/PenelopeWardAuthor/
Goodreads: https://www.goodreads.com/author/show/7105545.Penelope_Ward?from_search=true
Other books from Penelope Ward
Standalone Novels

Love Online:

Gentleman Nine

Drunk Dial

Mack Daddy

RoomHate

Stepbrother Dearest


Neighbor Dearest
Jaded and Tyed (A novelette)

Sins of Sevin

Jake Undone

Jake Understood (Jake #2)

My Skylar

Gemini
BOOKS BY PENELOPE WARD & VI KEELAND:
Hate Notes:
The Rush Series (2 Book Series)

Rebel Heir

Rebel Heart

Cocky Bastard

Stuck-Up Suit

Playboy Pilot

Mister Moneybags
British Bedmate
(Previously titled Dear Bridget, I want you):
WHEN AUGUST ENDS – NOW LIVE!
Amazon ➜ https://amzn.to/2XnZUW3
Audio ➜ https://amzn.to/2BEz4ja
Amazon Print ➜ https://amzn.to/2SY4Zoj
Apple Books ➜ https://apple.co/2Tj776z
Nook ➜ https://bit.ly/2IiEqX7
Kobo ➜ https://bit.ly/2BAL4lC
Google Play ➜ http://bit.ly/2BCw3Qc
Goodreads ➜ http://bit.ly/2SL1z9e
Title: Lady Guardians: Grace's Redemption
Author: Sydney Aaliyah Michelle
Genre: BWWM Motorcycle Romance
Release Date: October 12, 2018
Love tore them apart, revenge brought them redemption and a way back together, but at what cost?
Mase Scott wants revenge.
Determined to avenge his brother's murder, Mase puts his dreams on hold and hurts the only girl he has every loved. He pushed her away to protect her, however, revenge bring them back together. After learning about Grace's secret, his priority is to protect her at all cost event if it pits him against his own club.
Grace Smith wants redemption.
When the man she's loved all her life pushes her away, Grace seeks refuse with the Lady Guardians. She learns the true meaning of the word family. The club teaches her to take care of herself, but her connection to Mase is stronger than they both realized. Her redemption tour has her choosing between her crew and the man she loves.
Grace's Redemption is part one a sizzling MC Romance novella. If you like sexy alpha bikers, a strong biker beauty, and a steam love connect that spans over miles on the open road, you'll love Sydney Aaliyah Michelle's latest BWWM romance.
"Well, you shot me." I grunted. "We're fucking even."
It never felt like this, fucking. I knew it would be good. I underestimated it by a mile.
Maybe this was what it felt like when you fucked someone you loved.
It was nice having someone hold me. Not the person I wanted, but I was learning fast you don't always get what you want.
I thought about not if, but when we found each other again.
I knew it like I knew how to breathe that Gracie was mine and we'd end up together. She had my heart in her hands and at the moment, she held it there with an open palm. At some point, she would squeeze it with all her might and holding it close to her perfect tits and when that day came, I wouldn't want to be anywhere else.
Might be the reason why my life has been a rollercoaster of calm and chaos.
I deserve to be miserable for the rest of my life, but I want more than that crushing emptiness for her.
Tonight, I got to see how both of those merged into the beautiful woman she had become. Being inside of her again, stab wound or no stab wound, felt like home.
Lady Guardians: Grace's Revelation
Release February 20, 2019
Sydney Aaliyah Michelle is a Contemporary Romance writer, a voracious reader, tattoo lover, and movie fanatic who hails from Texas.
After surviving 5 1/2 years living in China, she had the courage to finally pursue her passion and become a writer.
She identifies the sci-fi action flick "The Matrix" as the best representation of her life in the past. She is now blessed to be awake and doing what she loves.
She can recite the entire script from the 80's teen comedy/drama "The Breakfast Club" and loves any and everything associated with the Avengers Movie, especially Tony Stark.
When it come to books, Sydney reads different genres, but some of her favorite writers are Stephen King, Xyla Turner, J.A Huss, Kaia Bennett, & Emily Bronte. Under the Dome, The Great Gatsby & Wuthering Heights are her favorite books.
Email Sydney at sydney@sydneyaaliyahmichelle.com.
Sign up for Sydney's Newsletter https://www.subscribepage.com/JoinMyTeamSAMBL
Genre: Contemporary Romance
Brittany Campbell is a smart, sassy woman with no filter. She has an independent streak a mile long and no man will get in her way. No matter how gorgeous he is.
Nathan Beckham works with Brittany. She can't escape him. His persistence along with his beautiful smile finally wears her down. Brittany decides to give him a chance, even though she knows he has a secret….
One that he doesn't want to share.
Can Brittany and Nathan fight for each other and the possible love that is forming between them with the roller coaster ride that is Nathan's life?
I started reading when the fifty shades phenomenon happened a few years ago. I have read hundreds of books since then and a story playing around in my head for quite a while. I finally got it out and published and I'm so proud of my first baby. It has many flaws, but it was my first. I've written four since and with each one I've grown. I'm more proud and in love with the characters and their stories. There will be many more to come. I love writing!
Title: Romancing JT
Series: Millionaire Romance Book 1
Author: Anastasia Alexander
Genre: Sweet Millionaire Romance
Published: April 18, 2018
Who will win JT's heart?
Maggie Chambers is used to living the high life, taking trips to Paris, Florence, and Rome with her French lover. She indulges in expensive art, fancy clothes, and expensive food until the money runs out, her lover flees, and her former husband closes down the purse strings. This propels Maggie on a mission to get money before she becomes homeless.
Unprepared for work, her only apparent skill is flirting. Soon she lands on a reality TV show, Millionaire Engagement, finding herself competing with forty other attractive women who want JT's heart.
To make matters worse, JT's a grieving widower who doesn't want to be on the show but is lured into it by his business partner. He's also a cowboy from Tucson who loves the simple life of riding his horse in the hardy desert—a life Maggie can't tolerate.
It doesn't take long for Maggie to realize that despite all her efforts, she can't seem to get along with the other women on the show nor the producer, and they are determined to get Maggie away from JT in any way possible.
Will Maggie be able to capture JT's heart before being kicked off the show?
"Anastasia Alexander weaves an interesting story with characters that readers will love. This is a story with great emotional and psychological depth. Anastasia Alexander succeeds in keeping the excitement of her readers high while building on characters that they can easily connect to. This is, indeed, an engaging and entertaining read." — Romuald Dzemo, Readers' Favorite
Anastasia Alexander doesn't have the answers to life's love questions. What she does know is that love in the 21st Century is complex. There are no easy answers, and there is a lot of richness and juiciness in exploring all the complexity that love brings.
Her credentials are two failed marriages, equaling twenty-three years of marriage and a willingness to believe that maybe a third one will be her lucky number. Or she might decide to compete with Elizabeth Taylor for who can get married the most times. It is yet to be determined which option she's going to go for, but until then she pours her passion and sarcasm for relationships into her stories.
Romance Author Anastasia Alexander's latest novel provides an emotional and complex look into 21st Century love!
Only US $0.99 today!
http://www.amazon.com/dp/B07BNXRPWG
>>>>>>>
New Anastasia Alexander romance novel is love tale about Maggie Chambers competing in reality dating show for cowboy's affection!
Only US $0.99 today!
http://www.amazon.com/dp/B07BNXRPWG
>>>>>>>
New romance bestseller from Anastasia Alexander is a delicious yet complex look into a 21st Century love tale!
Only US $0.99 today!
http://www.amazon.com/dp/B07BNXRPWG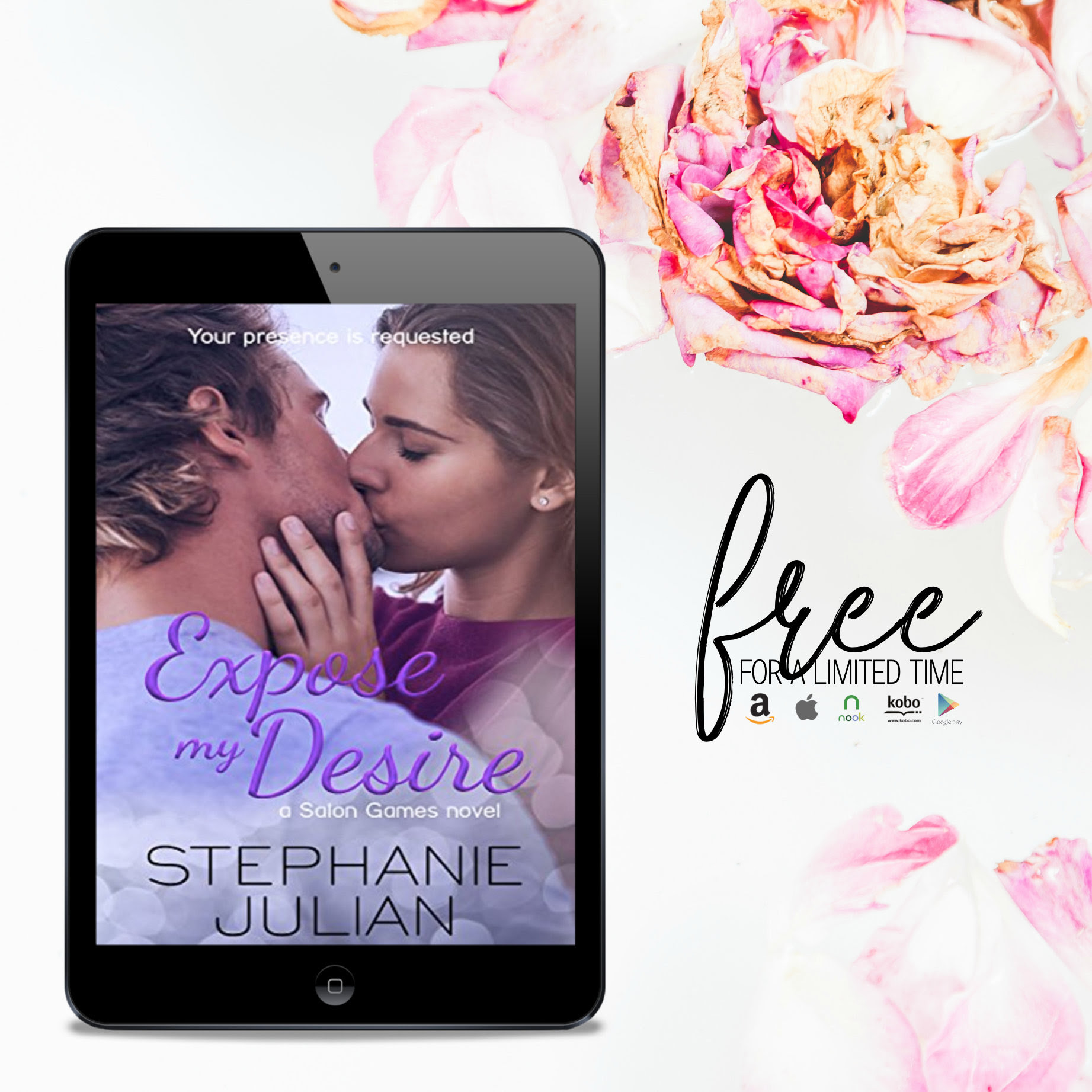 ★★★FREE BOOK ALERT!★★★
Expose My Desire by Stephanie Julian is FREE!
Amazon → https://amzn.to/2SWucwi
Apple → https://apple.co/2MdVFXy
Nook → http://bit.ly/2SWkTMK
Kobo → http://bit.ly/2ANgvc2
When the cameras are off, the real action begins.
Greg Hicks is a Hollywood power player. For years he's enjoyed the perks that come with being a top director and producer: the influence, the wealth…the women. But none have ever possessed the incredible sensuality of the young woman he once watched lose all inhibition in front of his camera.
Sabrina Rodriquez's life is far from a Hollywood dream. Refusing to make the same mistakes as her unlucky-in-love mother, she's focused on her first real job and avoiding all distractions, especially men. But Greg is impossible to ignore. And the desires he awakens are even harder to quench.
While a winter storm rages, a night at Haven Retreat leaves Sabrina's and Greg's temperatures rising. As Greg introduces Sabrina to the pleasures of voyeurism and exhibition, she unleashes his most decadent passions—and his creativity. But having Sabrina as a muse isn't enough. He wants her to take a starring role in his bed…and in his heart.
Title: Racing Christmas
Author: J.L. Baldwin
Genre: Contemporary Romance
Release Date:

January 22, 2018
There are only two things Vincent Henderson loves.
Speeding around on the track has always fueled his insatiable adrenaline appetite. A devastating loss has left Vincent without the Christmas spirit. Now, with history threatening to repeat itself, his focus has been turned to fixing his father's old race car so he can have the strength he needs get back on the track where he belongs.
That is, until Maybelle Tomlinson comes racing into his life, stopping him in his tracks.
Growing up as the typical sweet, southern belle, Maybelle is the epitome of what Christmas is all about. She loves everything about the holiday. From the tree, to the lights, and everything in between.Tennessee Christmases were always spent in a place she absolutely loves…her family's bakery, with her mother's signature creations.
When an impromptu holiday vacation throws Maybelle directly into the path of Vincent, she finds out he isn't as amazing as she once thought. He's rude, arrogant, and downright insensitive, but makes Maybelle's heart race faster than any car would. Digging deep to find the man she once imagined is not going to be easy, but it's a challenge Maybelle is up for.
It's the adrenaline rush of a lifetime, but crossing the finish line isn't always going to result in a happy end

ing.
"I like the sound of your laugh," he says, his eyes sparkling.
I blush. "Thank you."
"You're welcome. I should make you laugh more," he tells me. Vincent seems like he wants to say more. "So do you know why my feelings toward Christmas are the way they are?"
I nod. "Yes, Ariel told me, since Rig told her, so it made it easier to understand. I don't like it, but I understand."
Vincent scrunches his eyebrows together in confusion. "Why does it matter so much to you? It's just a holiday."
"It isn't just a holiday. It's magic. That feeling you get when you wake up on Christmas morning to see the tree all lit up, and presents beneath the tree, and the stockings hung by the chimney with care, and…"
Vincent scoffs. "Let me guess. They hope that St. Nicholas soon would be there? I've heard this same song and dance before. It is not a happy time for me. Sorry to disappoint you."
Now I'm getting angry. He's just going to brush it off. "You can't hate Christmas forever!"
"I disagree since it has caused me nothing but
pain
in the past, and unfortunately, the present."
This is getting me nowhere. "Care to be up to a challenge?"
He raises an eyebrow. "A challenge? Sweetheart, I'm Vincent Henderson. I never back down from a challenge. It's in my DNA."
"Good, then we'll go to the mall. And if you don't love everything in the mall that has to do with Christmas, I'll back off, and secretly love the holiday from afar. But, if you love it, I get the satisfaction of being right and bestowing the love of Christmas back into you. Deal?" I extend my hand out to shake his hand. Vincent seems unsure, but grins wide and grabs my hand. Instead of shaking it, he pulls me forward until I'm flush against his hard body. I inhale when his lips gently brush against mine. My breath hitches at the soft caress. His hand comes up and brushes softly against my cheek before closing his mouth over mine, stealing my breath in a kiss. Just as I go to deepen the kiss, he breaks the kiss and teasingly smiles.
"You've got yourself a deal, firecracker.
Growing up, J.L. Baldwin has always had a love of fairy tales and happily ever afters. Now, she loves her fairy tales grittier, darker, and sexier, while keeping that happily ever after ending. She has always dreamed of becoming an author and that dream finally became reality when she debuted her first book in December of 2015.
In her free time when she isn't writing, she can be found with a book in her hand, obsessing over Disney, thinking about a sunny beach somewhere, all while still thinking about the stories that have yet to be written.
J.L. is known for writing sexy, enticing romance with delicious, devious twists that are sure to entrance you for years and years to come.
Series: Black Shamrocks MC Series
Titles: Craving Control, Seizing Control, Making Choices, Seeking Redemption, Tempting Fate, & Finding Nirvana
Author: Kylie Hillman
Genre: MC Romance
Available now with KINDLE UNLIMITED!
A Black Shamrocks MC Companion Story.
PLEASE NOTE: While this story is part of the Black Shamrocks MC series, it is not a romance. This is a brutal, violent, painful, heartbreaking love story. It is the tale of one man's battle against his demons and one woman's fight to survive him.
He's the villain in the tale. The man who committed the most heinous of crimes. A monster of the highest order. He reigned supreme, seemingly unstoppable, until his power was stolen from him. Brendan Taylor, the politician's only son, was tried and convicted for the damage he wrought, then jailed in the prime of his life.
Yet, he still couldn't walk away from her.
Madelaine O'Brien, daughter of the President of the Black Shamrocks MC, was never on his radar. Their lives were on different trajectories until she captured his attention one fateful day and never let it go. It was as if the clouds parted and he saw the sun in all its glory for the first time in his regimented life. In that instant, she became his—and he would do anything to keep it that way.
His fate was sealed by his own actions.
Or so it seemed. Because little did he know, there was a plan put in place years ago. One that he wasn't privy to; even though, his participation was paramount. Its success rested on his victory. On the one thing that Madelaine awoke within him. A man with a singular appetite. A hunger that had him CRAVING CONTROL.
Disclaimer: This story contains graphic situations that may not be suitable for all readers.
Because even the villain has his reasons, Kylie Hillman is bringing you Brendan Taylor's story. This full-length novel can be read as a complete standalone or as part of the International Bestselling Black Shamrocks MC series.
He's already failed her once. Will it happen a second time?
Only daughter of the volatile President of the Black Shamrocks MC and long-suffering sister to four overprotective brothers, Madelaine O'Brien has survived circumstances that would have broken a lesser woman.
Mikhail "Mad Dog" Kennedy is her salvation, her reward for continuing to fight, and the matching piece of her soul.
With her life happy and on track, will the reappearance of the monster from her past be the event that finally breaks her? Or will he be the catalyst she needs to put it all behind her, once and for all?
They say when life gives you lemons; make lemonade. What happens when life keeps sending you demons who refuse to stay buried? Do you lie down and accept defeat or rise to the seemingly unwinnable challenge, and start SEIZING CONTROL
WARNING: This series contains graphic situations and is not suitable for all readers. While this series isn't dark-dark, basically everything that could need a trigger warning is included at some stage. Please consider yourself warned.
Seizing Control is the first book in the International Bestselling Black Shamrocks MC Series. If you enjoy gritty, authentic, and sexy MC reads, then you'll love Kylie Hillman's unique take on MC romance.
He wants her forever.
She only wants him for one night.
From the outside, it appears that Juliette Patrice has the perfect life. Her career is her number one priority, matched only by her desire to fulfil her parent's enormous expectations.
Lucas 'Timber' Blake is the Sergeant-At-Arms of the Black Shamrocks MC. A violent man who cares only for his Club and his family, he's wrong for Juliette in every logical way.
Still dealing with the fallout from the explosive events earlier in the year, Lucas is tested further when Juliette is dragged into the middle of the war between the Black Shamrocks and the Mavericks of Mayhem. A war that's already had fatal consequences.
Common sense tells her to run. Her emotions compel her to stay. The time has arrived for Juliette to begin MAKING CHOICES.
WARNING: This story contains triggering content and is not suitable for all readers.
Making Choices is the second book in the International Bestselling Black Shamrocks MC Series. If you enjoy gritty, authentic, and sexy MC reads, then you'll love Kylie Hillman's unique take on MC romance.
He's headed for rock bottom.
She's not far behind.
Some would say Benjamin O'Brien has finally reached rock bottom. When you've ruined your life and brought your loved ones to their knees in the process, you would assume you couldn't fall any further.
Lacey Marquis is done. Broken. Shattered. Ruined. Deserted by the man she thought was the love of her life, she's reached her breaking point.
It takes a lot to make the Black Shamrocks MC abandon their family, yet Benji has almost managed it. When the Club discovers Lacey's involvement in his deception, they're both given one final chance. Make amends or die; it's that simple.
When two scarred souls find each other in the midst of chaos, is it possible for them to be the strength the other needs? Or will their individual demons prevent the other from SEEKING REDEMPTION?
WARNING: This story contains triggering content and is not suitable for all readers.
Seeking Redemption is the third book in the International Bestselling Black Shamrocks MC Series. If you enjoy gritty, authentic, and sexy MC reads, then you'll love Kylie Hillman's unique take on MC romance.
Revenge or the love of his life?
Her soul mate versus her family?
Whatever they choose, someone loses.
Mik and Maddi. Mad Dog and his Angel. Mikhail Kennedy and Madelaine O'Brien. One without the other just doesn't seem right. They're made for each other; soul mates who've survived every obstacle thrown in their way.
It should be smooth sailing from now on. Mik taking his rightful place as the President of the Black Shamrocks MC with his woman by his side. Maddi free from the demons that plague her, finally back in the tender embrace of the love of her life.
Revenge. That dish best served cold. The need for it is eating Mik up inside. Filling him with hatred and blinding him to Maddi's struggle. He wants to avenge every wrong done to them while she wishes to forgive and forget.
A life filled with love and happiness ought to be their destiny. A future filled with pain and regret appears to be the actual outcome. With the love they've fought so hard to protect at stake, can they let go of the past and stop TEMPTING FATE?
WARNING: This story contains triggering content and is not suitable for all readers.
Tempting Fate is the fourth book in the International Bestselling Black Shamrocks MC Series. If you enjoy gritty, authentic, and sexy MC reads, then you'll love Kylie Hillman's unique take on MC romance.
His darkness has consumed him.
Is she the light that he needs?
Joel O'Brien has been drafted into a fight he doesn't believe in. While the Black Shamrocks MC is doubling down for the final battle in the war they've been waging with Thomas Taylor and the Mavericks of Mayhem, Joel dreams of a different life. One where his family is intact and the Club no longer exists.
Sascha Koswalski knows what comes from loving an outlaw biker. Pain. Suffering. A broken heart. She's not willing to risk it again—no matter how intriguing she finds Joel.
As the end nears, and lifechanging secrets are revealed, Joel and Sascha find themselves drawn together by the cold, hard realisation that they are the key to the survival of the Black Shamrocks MC. In this final defence of their way of life, will the Black Shamrocks MC be the victors or the victims?
WARNING: This story contains triggering content and is not suitable for all readers.
Finding Nirvana is the final book in the International Bestselling Black Shamrocks MC Series. It now contains an extended epilogue that takes place nine months after the end of Finding Nirvana and a sneak peek of Conan, the first book in the brand-new spin off series featuring the first generation of the Black Shamrocks MC.
Kylie Hillman is an International Bestselling Author who lives in South Australia. After spending the past fifteen years regularly moving around the east coast of Australia, she has recently returned to her home state and plans to finally put down roots until her children finish school.
Wife to a Harley-riding, boating and fishing, four-wheel driving, quintessential Aussie bloke and mum to two crazy, adorable, and eccentric kids, Kylie is also a Crohn's Disease sufferer and awareness campaigner.
When she's not writing, she can be found sipping tea while she scoffs copious amounts of jelly beans (except the black ones – they're the devil's food), sharing her appreciation for heavy metal and hard rock music with her neighbours, or stalking Tom Hardy and M. Shadows from Avenged Sevenfold online. As a devotee to the use of profanity, sarcasm, and inappropriate innuendo, it is for the best that she chooses to venture outside her 45-acre farm only on special occasions.
SIX HOLIDAY THEMED SHORT STORIES,
AVAILABLE

FREE

FOR A LIMITED TIME ONLY!
Broke and exhausted from Black Friday shopping? We're here to help!
SIX All new FREE HOLIDAY STORIES from some of your favorite authors! Check out these sexy and fun standalone holiday themed shorts from Vi Keeland & Penelope Ward, Jodi Ellen Malpas, Marie Force, Emma Chase, Corinne Michaels & Susan Stoker!
Naughty or Nice will only be available for a LIMITED TIME, so hurry! Get your copy today! BookHip.com/QGCKHV
Do you want to be naughty and sneak a little peek at what some of what your favorite authors are bringing you for the holidays? You know you wanna! Shhh here take a little looksie, we won't tell…
The last thing I needed was to share an Uber with Scrooge—a cocky lawyer on a snowy Christmas Eve. It was bad enough I was on my way to court for the gift of eviction. Although maybe today wouldn't turn out so bad after all. The Sexy Scrooge and I started to connect as we trudged our way through a storm. Our ride was about to end. But would I ever see him again?
Shannon's last-minute Christmas shopping trip quickly goes from tedious to thrilling when she meets a sexy stranger in Harrods. He's irresistibly cheeky, hot as sin, and he seems to want to play. So when he sets Shannon the challenge of completing her Christmas shopping before he completes his, she can't help but accept. And she plans on winning. But the sexy stranger plays dirty on the shop floor. And even dirtier in the women's changing rooms…
Evie Sanders has a secret. She's in love with her boss, Jace Winters, the hot as hell, hardworking owner of the best bar in the snowy, ski resort town of Alpine. She thinks Jace barely knows she exists—that to him, she's just an employee. But at this year's Christmas party, bells get jingled, stockings get stuffed, snow—and other things—get thoroughly plowed, and Christmas wishes (even the naughty ones) just might come true.
Marie Force – Joyous—A Quantum Christmas
After a remarkable year that included a wedding and a big Oscar win for Quantum Productions, Hollywood superstar Flynn Godfrey wants to give his wife, Natalie, and closest friends a Christmas they will never forget. But when best-laid plans go awry, Flynn will learn that sometimes the season's greatest gifts are those that can't be bought or wrapped.
Holly has had enough pain around the holidays to last her lifetime. All she wants is to focus on her work. All of that becomes impossible when she's stuck in the elevator with her co-worker Dean. She can't avoid his intense stares, deep voice, and scent that drives her crazy. Will the holiday season bring them an unexpected lift or will they come crashing down?
When Chris and Sienna meet during an accident in Texas, the perfect strangers soon discover they're inexplicably linked…in more ways than one. Coincidence? Perhaps. Or maybe the makings of their very own Christmas miracle.
Want more? Get your copy of Naughty or Nice now BookHip.com/QGCKHV
Happy Reading & Happy Holidays!
Much Love,
Vi Keeland & Penelope Ward, Jodi Ellen Malpas, Marie Force,
Emma Chase, Corinne Michaels & Susan Stoker!